Welcome to Akshaya Pavers
A Leading Paver block manufacturers and Suppliers in Coimbatore
Quality Control System , 100% Satisfaction Guarantee
Unrivalled Workmanship, Professional and Qualified
Environmental Sensitivity, Personalised Solutions
We Akshaya Pavers, is one of the leading Paver block manufacturers and Suppliers in Coimbatore ever since the year 2007. Your one and only destination for all the Paver Blocks, Fly Ash Bricks, Rubber Mold Pavers, Kerb Stones and Designer Tiles where we help your visionary ideas of Magnificent Landscapes come true. Our Paver blocks and other products are tailor-made with unique proportions and they are highly durable.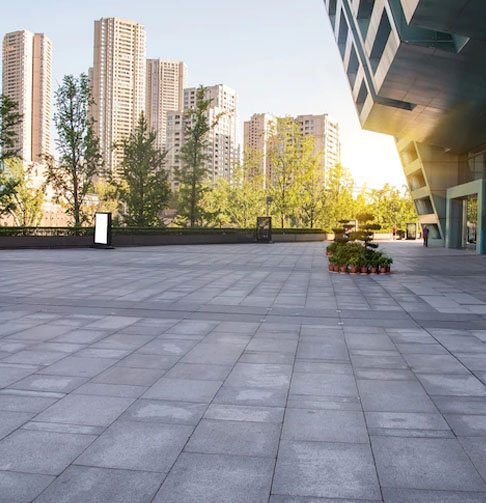 We manufacture and deliver the heavy duty segmental concrete products like Paver blocks, Rubber Mold Pavers, Fly Ash Bricks, Kerb Stones and Designer Tiles for your Driveways which are available in various colors, different styles, and finishes. Our pavers range starts from budget friendly options (cement blocks) to the premium range (Cobble stones and Sand Blast stones). Our Paver Blocks and Rubber Mold pavers rely on Indian standard Guidelines of BS 6717 & IS 15658:2006 and meet M25 to M55 grades and the thickness varies from 60 mm, 80 mm and 100 mm. Our Fly Ash Bricks and Designer Tiles are manufactured to meet the Indian standard guidelines of IS 12894:2002 & IS 1237:2002. We also manufacture Kerb stones which also meet IS 5758:1984 for a counteracted edging process. We Akshaya Pavers have versatile products to owe an attractive finish to your outdoor artistic.
We take up projects from 1000 Sq ft to 1,50,000 Sq ft. We have joyfully completed some of the most challenging projects in Tamilnadu . Close to 40% of our projects are referred by our previous clients.We have joyfully completed some of the most challenging projects in and around Tamilnadu
To provide world class services to our valuable customers and build trust and dedication.
To provide end-to-end construction solution with a view to become the leading Paver Block company in India.
We maintain high level of professionalism.
Wide range of integrated services.
We are highly customer – centric.
No compromise in quality and Reliable durability.
Customized designs are manufactured for trendy customers.
Pavers at reasonable prices.
No delays on project, Works done on time.
We value customers time and money.
We repair even small damage of the previous works to ensure the customer base.
We aesthetically rely on customers satisfaction.